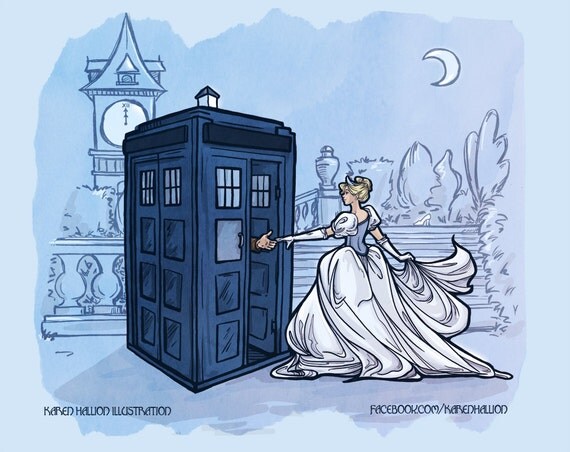 Come Away with Me
What if, instead of going home and waiting for her prince to find her, Cinderella went off on an adventure with a strange man in a blue box?
Disney/Who is a series by Massachusetts based artist and illustrator Karen Hallion.
Why isn't the Doctor's hand reaching out of the Tardis in every Disney/Who design you do? "I feel strongly that I do not want to show more of the Doctor than just his hand and sleeve. I want to leave it up to the viewer to decide which Doctor is in there, though for me, there is a clear choice. But, I am keeping that to myself. Spoilers! Anyway, sometimes, when the Tardis is at a different angle, I can't show the Doctor's hand without giving away more, so I keep the door shut. :D"
Karen graduated with a BFA in Illustration and became a dedicated elementary school art teacher for many years, before deciding to follow her long held dream to work as a full-time artist. She created this Etsy shop alone in her home one day as a way to sell her mermaid series, listing items, filling orders, and growing her business all on her own. It has continued to expand to what you see today.
Facebook / Etsy shop / Society6
Cannot hide Who I am inside
Visions are Seldom all They Seem – "I know Who, I walked with him once upon a dream…"
Adventure in the Great, Wide Somewhere… – She wanted so much more than they had planned…
You Comin' Blondie? – You said you wanted to see the lights?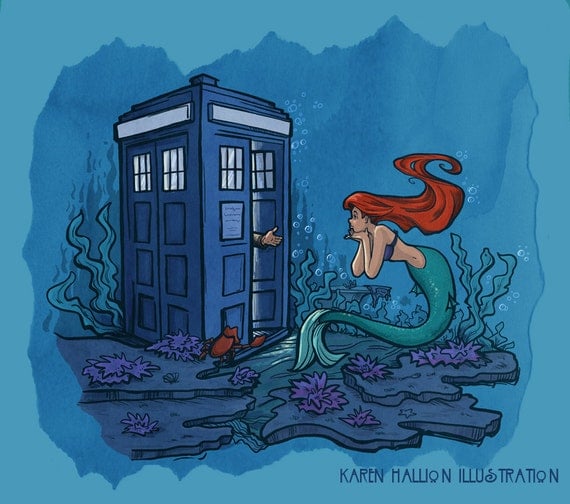 Part of Every World – She was longing to be part of a different world, and a strange man in a blue box appeared, offering to show her every world….
A New Fate – Merida follows the wisps, and they lead her to a strange blue box.
Touch the Sky …then the Stars
Stowaway
PaperWho
Come Along, Carl – Carl and Ellie are finally getting their adventure…
I'm Wishing
Escape from the Dark Forest – Having just escaped the huntsman, alone in the dark forest, a strange blue box appears…
Who's this? Who's this? – "Oh, there's an empty place in my bones
That calls out for something unknown"
A Whole New Universe
Big Bad Wolf – Red found a different kind of wolf in the forest.
Cindy Lou WHO – "Why are you taking our Christmas tree?"
The Princess and the Doctor
Who wants to Build a Snowman – It doesn't have to be a snowman….
Frozen in Time and Space – Elsa finds something unusual in her ice palace.
Nanny Who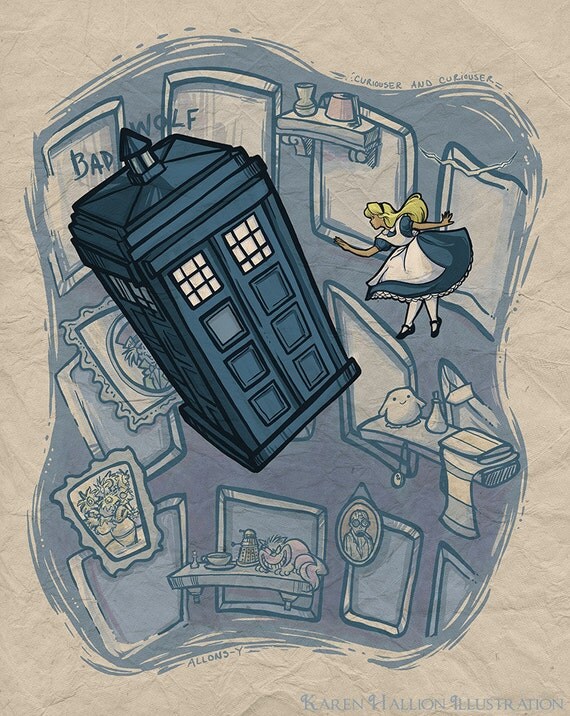 Falling – Alice found some interesting things down in that rabbit hole…..